About Us
At Encore Kids we offer acting classes, theatre activities and performance opportunities for children of all ages!  Our curriculum includes teamwork, concentration, improvisation, movement, voice, theatre terminology and much more! We train actors, singers, dancers, technicians, costume designers, prop masters and more! No one is left out of our productions and everyone gets the opportunity to perform!
We offer classes at local private & public schools, parks, centers and any other venue looking to give children an opportunity to perform! Now offering private lessons and coaching!
Need a Master of Ceremonies or looking for a DJ? Book our trained professionals for your next event!
So let the drama continue!
Our Encore Kids Team
Encore Kids staff members are some of the most passionate and talented individuals in the industry. This coupled with their love for education and the performing arts ensure that your child will have a great experience with Encore Kids.
Lorraine Johnson Encore Kids Managing Director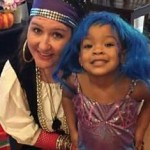 Lorraine has been performing since childhood and has degrees and certifications in Theater, Communications, Education, and Family Development. She has performed, directed, and choreographed for professional companies throughout the United States. "The fine arts are critical in the overall education of young people.  Regardless of whether or not our students become performers the skill of being able to express themselves confidently will open doors in the future. At Encore Kids our focus is to create an environment where our students can explore their imagination and find their voice. Watching students gain self-confidence is what makes this program so very special. It is a priviledge working with all of our awesome students".
Denise Frazier – Encore Kids Instructor/Director
Denise has over 23 years of teaching experience in Houston, Austin and Frisco, TX. She has been married for 27 years and has a daughter and a son. Denise loves directing plays and really enjoys working on all of our productions. Denise says, "Directing has been a passion of mine since I was very young! I look forward to another year with Encore!"
Anna Ivy
Encore Kids Instructor/Director
Anna has many years of teaching, acting, and directing experience. This is Ms. Anna's fifth season with Encore Kids! Her love and passion for children and the arts is just once of the things that makes Ms. Anna so special!
Guest Artists
Encore Kids is proud to welcome a variety of guest directors, vocal coaches, choreographers and other artists!