Music, Performance Times & Costume Information (please scroll down)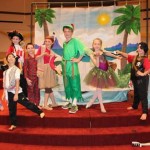 MUSIC – Aladdin 
Click on each  arrow to play track. To download right click on each track to save/download to your device!
Arabian Night Vocal & Instrumental
Friend Like Me Vocal & Instrumental
Prince Ali Vocal & Instrumental
A Whole New World Vocal & Instrumental
COSTUME INFOMATION – Encore Kids will provide simple costumes and props. We may ask each student to wear a particular color of shirt or pants or ask them to bring accessories from home that they may have. It is NOT required to go out and purchase a costume, unless you choose.  We do provide costumes for our students. At Encore Kids we want to put the focus on the student's acting skills rather than on elaborate costumes. This also keeps the cost of our program down and keeps parents from having to spend extra money on purchasing a costume.  We do allow students the option to wear/create their own costume if they choose to.  We will provided all accessories, hats, vests, etc.  Note: If your child is opting to wear any type of make-up, please apply at home. We have very little time before each performance! ****If your child is playing more than one part please have them dress for their main part. If both parts are equal have them choose which role they want to dress for!*****  Please make sure hair is pulled back away from performers faces so that the audience can see our great facial expressions!
 Storyteller (Baki, Hadi, Faris etc.): (Boys) Please wear black, brown or navy pants, any pain colored t-shirt or button down shirts (no logos) (Girls) any colored plain colored, skirt & top or dress, you may also dress similar to a genie /jasmine (no logos) NOTE: If you are dressing similar to genie/jasmine NO BLUE OR TURQUOISE.  We will provide all accessories. ALL: any type of shoe, sandals or boot (NO ATHLETIC OR LIGHT UP SHOES) NO JEANS
Peddlers:  (Boys)Please wear black, brown or navy pants, any pain colored t-shirt or button down shirts (no logos) (Girls) any colored plain colored, skirt & top or dress (no logos) We will provide all aprons, headpieces, vests, etc. ALL: any type of shoe, sandals or boot (NO ATHLETIC OR LIGHT UP SHOES) Feel free to wear own apron, vest, headpiece or smock. NO JEANS
Genie: If you are wearing our costume please wear all  blue, white or black tops, pants, leggings etc. (NO LOGO OR JEANS) (you are welcome to create own costume or paint your face etc. painting your face etc., is totally up to you. We will NOT be applying face/body paint to anyone) NO JEANS. You may wear any type of shoe or sandal (NO ATHLETIC OR LIGHT UP SHOES)
Aladdin: Please wear any white, brown or black bottom and red or white t-shirt. We will have a few pair or harem pants to choose from as well. (NO LOGOS OR JEANS) You may wear any type of shoe or sandal (NO ATHLETIC OR LIGHT UP SHOES)
Jasmine:  Note: if you are wearing our costume please come dressed in blue, turquoise or white leggings, and tights, leotard or cami) you may wear any type of shoe or sandal (NO ATHLETIC OR LIGHT UP SHOES) Feel free to create your own costume. (NO JEANS)
Sultan/Sultaness: (Boys) please wear any black, brown, white  or navy pants, any pain colored t-shirt or button down shirts (no logos) (Girls) any colored plain colored, top & bottom/leggings. You may also dress similar to a Genie /Jasmine (no logos) we will provide all accessories, overlays. Girls we will have a few royal dresses to choose from or you may wear a royal/princess/queen type dress you may already have.  ALL: any type of shoe, sandals or boot (NO ATHLETIC OR LIGHT UP SHOES) (NO JEANS)
Iago: Please wear any bright colored top and bottom. You may wear any type of shoe, sandals or boot (NO ATHLETIC OR LIGHT UP SHOES) (NO JEANS)
Razoul/Guards: (Boys) please wear any black, brown or navy pants, any pain colored t-shirt or button down shirts (no logos) (Girls) any colored plain colored, pants, skirt & top or dress (no logos) We will provide all aprons, headpieces, vests, etc. You may wear any type of shoe, sandals or boot (NO ATHLETIC OR LIGHT UP SHOES) Feel free to wear own apron, vest, headpiece or smock. (NO JEANS)
Jafar: Please dress in all black. You may wear any type of shoe, sandals or boot (NO ATHLETIC OR LIGHT UP SHOES) (NO JEANS)
Abu: Please wear any brown or black bottoms and a white, brown, or black top (NO LOGOS OR JEANS) we will provide all accessories, vests etc. We will have a few monkey hats, ear options, girls you can always wear your hair in little side buns/pony tails to create ears. You may wear any type of shoe, sandals or boot (NO ATHLETIC OR LIGHT UP SHOES)
Rajah: Please wear any brown or black bottoms and any, brown, black or orange top (NO LOGOS OR JEANS) we will provide all accessories. We will have a few hat, ear options, girls you can always wear your hair in little side buns/pony tails to create ears. You may wear any type of shoe, sandal or boot (NO ATHLETIC OR LIGHT UP SHOES)
Magic Carpet:  Please wear any BRIGHT colored top & or bottoms (NO LOGOS OR JEANS) you may wear any type of shoe, sandals or boot (NO ATHLETIC OR LIGHT UP SHOES) we will have all accessories
Thor/Yogi:  Please wear any color black, brown or navy pants, any pain colored t-shirt or button down shirts (NO LOGOS OR JEANS) We will provide all accessories, vests etc. (NO LOGOS OR JEANS) We will provide all accessories, vests etc. You may wear any type of shoe, sandal or boot (NO ATHLETIC OR LIGHT UP SHOES)
Handmaidens: Please wear any (plain no patterns) color top & bottom (NO LOGOS OR JEANS) we will provide all accessories, vests etc. You may wear any type of shoe, sandal or boot (NO ATHLETIC OR LIGHT UP SHOES)
Townspeople: Please wear any (plain no patterns) color top & bottom (NO LOGOS OR JEANS) we will provide all accessories, vests etc. You may wear any type of shoe, sandal or boot (NO ATHLETIC OR LIGHT UP SHOES)
Performance Times:   (All performances at Homestead Elementary 1830 E Branch Hollow Dr. Carrollton Tx 75007)
Saturday December 2nd: 
Polser Elementary – Performance 9:00 am (students please arrive at 8:30 am)
Independence Elementary – Performance 10:30 am (students please arrive at 10:00 am)
Hicks Elementary – Performance Noon (students please arrive at 11:30 am)
Hebron Valley Elementary 2:oo pm (students please arrive at 1:30 pm)
Castle Hills Thursday 5:00 (students please arrive at 4:30 pm)
Castle Hills Monday 6:15 (students please arrive at 5:45 pm)
Aldersgate Tuesday 7:30 (students please arrive at 7:15 pm)
Saturday December 9th:
Homestead Elementary – Performance 9:00 am (students please arrive at 8:30 am)
Old Settlers Elementary – Performance 10:30 am (students please arrive at 10:00 am)
Liberty  Elementary – Performance Noon (students please arrive at 11:30 am)
Bridlewood Elementary – Performance at 1:30 pm (students please arrive at 1:00 pm)
QUESTIONS: Please email us at encorekidstx@yahoo.com