Music, Performance Times & Costume Information (please scroll down)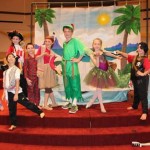 Auditions will take place the second week of classes. Everyone will receive a part in the production. Please choose a monologue below for auditions. Students will receive their parts via email a day or two after their audition. We will go over how to audition during the first day of class.
Audition Monologues: Please choose one of the following monologues for auditions or you may choose something out of the script. Whatever you choose, it should be memorized for the actual audition. Also if you would like a solo be prepared to sing a few lines from any song (a Capella). If you do not know what to sing you can choose Twinkle Twinkle Little Star. Roles are assigned based on each student's audition! Memorization, characterization, facial expression, vocal expression, projection, and body control are all factors in casting! Every student will be assigned a role! Every part is important and this show is very much an ensemble production! For more information on audition/casting please click on the parent information tab. 
DOROTHY :  No, Auntie Em — this was a real, truly live place. And I remember that some of it wasn't very nice…….but most of it was beautiful.  But just the same, all I kept saying to everybody was, I want to go home. And they sent me home. Toto, we're home! And I'm not going to leave here ever, ever again, because I love you! And — Oh, Auntie Em there's no place like home!
GLINDA: The Munchkins, they're laughing because I am a witch. I'm Glinda, the Witch of the North.  The Munchkins are happy because you have freed them from the Wicked Witch of the East. It's all right — you may all come out and thank her. It's all right now – you may all come out.
WICKED WITCH:  Ahh!!! What have you done? Ohhh — you cursed brat! Look what you've  done!  I'm melting!  Melting!  Oh — what a  world — what a world! Who would have thought a little girl like you could  destroy my beautiful wickedness!?  Ohhh!  Look out! Look out! I'm going. Ohhhh!  Ohhhhhh….I'm melting! I'm melting! Ahhh!!!!
EMERALD CHORUS: Dorothy and her dog Toto lived on a farm in Kansas and every day Dorothy dreamed about the world outside of Kansas. Toto was a funny dog. He walked on two feet and looked a lot like a little boy!
MUNCHKIN: And the witch is not only merely dead,  she's really, most sincerely dead. Then this is a day of Independence for all the Munchkins and their descendants! Yes, let the joyous news be spread. The Wicked Old Witch at last is dead!
SCARECROW: That's the trouble. I can't make up my mind. I haven't got a brain — only straw. But some people without brains do an awful lot of talking, don't them?  I'd be most grateful if you could help me out here. This pole is stuck up my back. If you could take it away. Thank you. I feel wonderful!
Tinman:  Oh  it feels wonderful.  I've held that axe up for ages.  You see about a year ago — I was chopping that tree — minding my own business when suddenly it started to rain…….and right in the middle of a chop, I…I rusted solid. And I've been that way ever since.
LION: (leaping in growling) Put 'em up! Put 'em…….up! Which one of you first? I'll fight you both together if you want! I'll fight you with one paw tied behind my back.  I'll fight you standing on one foot. I'll fight you with my eyes closed. (Snarls) OH, scared, huh? Afraid, huh?  (To Toto) Well, I'll get you, anyway, Pee-Wee.
WIZARD of OZ: – (Loud and frightening.) I am the Great and the Wise and the Wonderful Wizard of Oz! How dare you disturb me from my Wizardly… uh Wizardness! Who are you? Explain yourself!
Music, costume and performance information for our next production will be posted later in the session!
QUESTIONS: Please email us at encorekidstx@yahoo.com